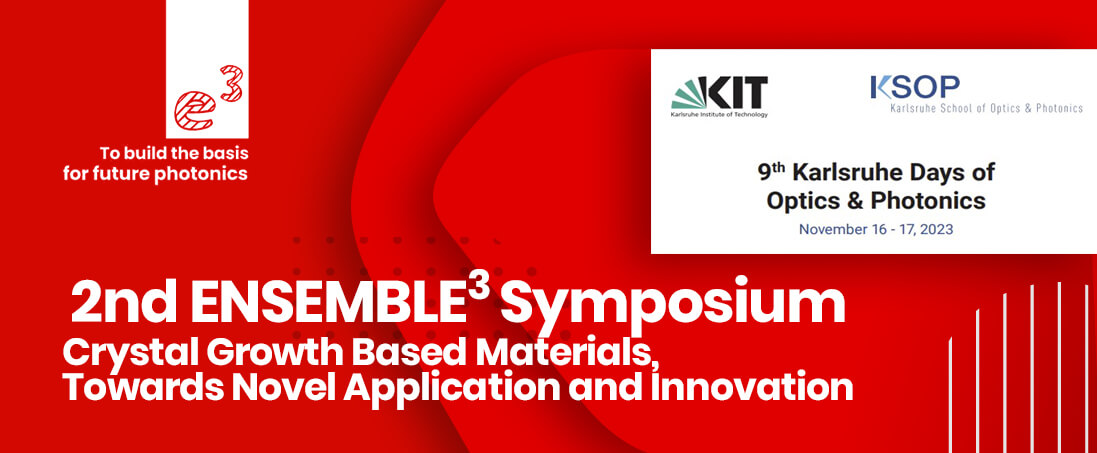 Dear Colleagues and Enthusiasts in the Field of Photonics and Material Science,
It is with great pleasure and enthusiasm that we extend an invitation to you for the 2nd ENSEMBLE3 Symposium. We have curated a compelling lineup of expert speakers and intriguing sessions that promise to shed light on the fascinating world of crystal growth-based materials and their potential applications.
📍 Location:
Auditorium of the International Department of the Karlsruhe Institute of Technology gGmbH
Schlossplatz 19, 76131 Karlsruhe, Germany.
📌 Agenda:
09:00: Welcome Address by Prof. Dorota A. Pawlak & Prof. Uli Lemmer
09:15: Prof. Dorota A. Pawlak, President of Ensemble3
Topic: "ENSEMBLE3 - Novel materials for photonics - possibilities provided by crystal growth"
09:45: Dr. Pol Ribes Pleguezuelo, In charge of space-based lidars and laser development at European Space Agency
Topic: "ESA Lidars, their lasers, and the need for new emitting wavelengths"
10:15: Dr. Celal Mohan Ögün, Head of Development IR sensing at Trinamix GmbH
Topic: "Making NIR spectroscopy accessible for everybody"
10:45: 4th speaker to be confirmed.
11:15: Poster session with Ensemble 3 students.
12:15: Lunch Break.
📚 About the Symposium:
The 2nd Ensemble 3 Symposium focuses on the cutting-edge developments and innovations in crystal growth-based materials and their myriad applications. Jointly organized with the Karlsruhe School of Optics and Photonics, the symposium is part of the Karlsruhe Days of Optics and Photonics, ensuring an enriching and informative experience for all attendees.
🎟️ Registration:
Interested participants are encouraged to register for the E3 symposium at Karlsruhe School of Optics & Photonics. When registering, please mention "E3 Symposium" in the comments section of the registration form.
Join us in this collaborative journey of knowledge exchange and innovation. We eagerly await your participation and hope to foster an environment of learning, collaboration, and networking.
Program: Please find the program of the 9th Karlsruhe Days of Optics and Photonics >>>here.
Register >>>here!